Manual certificate installation on devices with Android 11
To be able to filter HTTPS traffic (which is extremely important as most ads use HTTPS), AdGuard needs to install a certificate into your device's user storage. On older versions of Android OS this was done automatically during the onboarding process or later via AdGuard settings, and it only required a couple of taps. Unfortunately, on Android 11 automatic certificate installation is no longer available. Now a manual installation is required.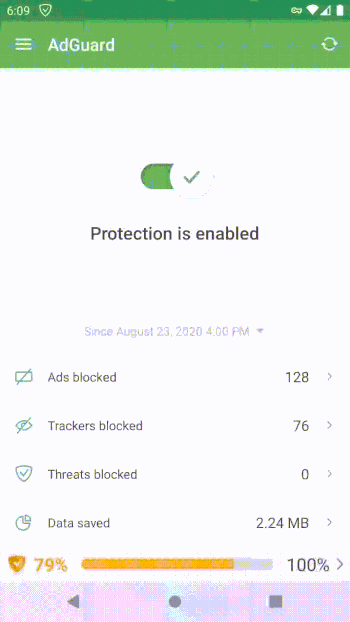 To manually install AdGuard certificate:
1) Go to the app's main screen and tap on HTTPS filtering (it will be highlighted in red if AdGuard certificate is not installed yet)
2) Enable the switch at the top
3) A new screen will appear, tap twice on the Next button and then on Save it now when prompted to download an AdGuard certificate
4) After the certificate is downloaded, you will see a new screen. Tap on the Open security settings button there
5) This will bring up system settings. Scroll down to Advanced, open it and then tap on Encryption & credentials
6) Tap on Install certificate and then on CA certificate
7) A warning message will appear. Read through it and tap Install anyway to proceed
8) Select the recently downloaded AdGuard certificate. A CA certificate installed toast message should show up
9) The AdGuard certificate is successfully installed and HTTPS filtering is working now!
If you update from Android 10 to Android 11, there's a chance that already installed certificate will still be accepted. Otherwise, the HTTPS filtering string on the main screen will be red and you'll need to go through the same process of reinstalling a certificate manually.